Welcome at Terme d'Astor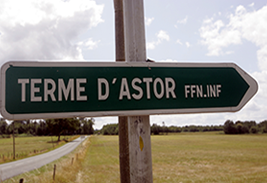 Our 3-star naturist camp site is located in the sunny and varied Dordogne, where every day of your holiday will be an event. For 40 years Terme d'Astor has been praised by our loyal guests for its tranquility and friendliness. Whatever age you are, you will be happy here. Join in with the fun and the activities, or do your own thing, or just relax.
Our facilities are excellent. The site is clean and spacious, the camping plots are large and level, the restaurant good and the bar cosy. From the terrace you overlook our heated swimming pool, sauna, whirlpool and illuminated boules area. Our site is child-friendly and pets are welcome. Wifi is available to all our guests throughout the campsite. Our chalets and mobile homes also benefit from wifi access.
Terme d'Astor is just a great holiday location; you feel you are at home. We pride ourselves in doing everything we can to ensure your holiday is memorable and you will desire to return.
We look forward to welcoming you this summer.
À bientôt,
Terme d'Astor.
Season
2021
In 2021 our opening dates will be from the 16th of April until the 17th of October.